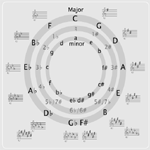 What's better than a circle of fifths diagram?
An interactive vectored one…with other useful stuff!
Since I stopped studying music, the theory has been slowly seeping out of the side of my head. The only solution was to recreate my old reference sheet so I could quickly grab a copy on the mobile.